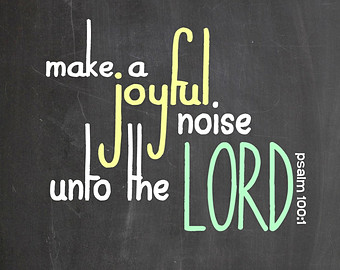 Noise is often perceived as an unpleasant sound. A sound that is unwanted, loud or disruptive to the hearing. This type of sound often causes an individual to cringe or even birth unpleasant emotions such as anger, annoyance, rage, etc.  Ironically, however, the Bible encourages us to make noise.  Psalm 100: 1 states "make a joyful noise unto the Lord…"  This text clearly stipulates that there are different types of noise that are being made unto the Lord.  So what would classify a noise as joyful as opposed to just being noise?  I am glad that you asked, but before I answer let's look at what constitutes a joyful noise.
A joyful noise is figuratively splitting or breaking the ear with sound marked by joy.  Joyful noise is basically shouting or sounding an alarm of who God is and His goodness. This is the type of noise that God wants us to make.
Other noises that we make unto to the Lord comprises of anxiety, doubt, fear, complaining, bitterness, ungratefulness, unbelief, etc.  These types of noise tend to reverberate in our minds and out of our mouths whenever we feel like we have been placed in situations that we do not have the power to control.  This reaction is not unique to us however, a story was told of Jesus sleeping in a boat while the disciples were encountering a storm. The storm was so forceful and disruptive that it caused the boat to begin to sink. The disciples in fear woke Jesus and questioned His love for them because they were fearful that they were going to die. The story continued and informed us that Jesus spoke to the winds and the waves and immediately there was peace. In this situation, the disciples were making noise but their noise was not joyful.
How often do we find ourselves in positions like the disciples making noise unto to the Lord but not the kind in which He takes pleasure?  We utter the negative aspects of our life's events like a broken record. Just making noise instead of letting our present circumstances know that we are believing God. We make noise instead of declaring His marvelous works among the children of men. We make noise instead of letting the environment and the various realms know that the God we serve He alone is God and deserves to be praised. We make noise instead of professing that He is the great I AM (whatever we may have need of and more).
Today I implore you to stop making noise and make a JOYFUL NOISE instead.
Father, I pray that you will open the eyes of your people and cause us to view our current circumstances through the correct lenses. I pray that as we begin to see clearly that we will speak accurately. We will make a joyful noise unto You, regardless of our condition and in spite of our situation. May we from this day forth be JOYFUL NOISE makers. Amen.
4/8/2020 Dr. R. Anderson.