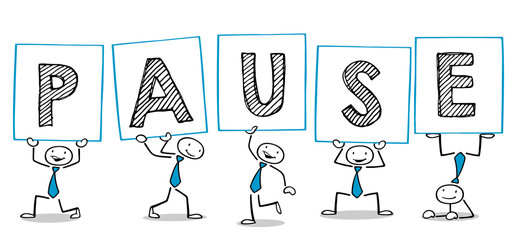 Life is filled with constant hustling and bustling. It is a whirlwind of decisions to make, things to do, people to meet, problems to solve, places to go, dreams to accomplish, etc., that leaves an individual in a frenzy. One can hardly find time to catch their breath with the consistent demands for attention and affection.  This result in one feeling pressured and downright obligated to continually be dressed in the "superhero cape." Notwithstanding, the need for pause is quite eminent. As Mark Twain stated, "the right word may be effective, but not as effective as a rightly timed pause."
Pausing gives us time to breathe and to have clarity of thoughts so that the right decisions can be made. It also affords us the privilege of not operating from an emotional standpoint. Additionally, when we pause, we get more accomplished. Usually, when we succumb to external forces and make a decision, we encounter more harm than necessary.
In the book of Ruth, we learn about a man who left his home with his wife and kids to live in a strange land. At the time he made that decision his homeland was experiencing the severe duress of famine. The external condition caused him to make a decision that would not benefit him as planned. The Bible lets us know that he died in the land of Moab along with his two sons, leaving behind his wife and children's wives.  The story continued making us aware that the wife and one daughter-in-law went back to their homeland and actually prospered in that land. One can only wonder what if he had implemented a pause before making such a decision. What if he had waited like the other inhabitants of that land? Would he not have experienced the overflowing abundance like the others?
Moral of the story is to implement the "pause" when making a decision. Do not let the pressure of external factor influence your decision-making process. Take time and breathe before making a decision. A pause could save your life.
4/2/17 Dr.R.A.